Daffodils, crocus, and hyacinth are in bloom, with leaves on the trees about to burst open. Spring is finally making an entrance!

Spring also brings Passover and Easter this coming week.  Unfortunately, since I've been working on a time-consuming project, I've had little time to pound the keyboard lately. So, I am reposting an article from last year that includes timeless wines and classic recipes to grace the table and please your palate.
​
Easter
Jean-Luc Colombo Cornas "Terres Brûlées" 2018
Jean-Luc Colombo winery is located in the northern appellation of Cornas in the Rhône Valley, France.  Cornas is the smallest appellation in the Rhône Valley, consisting of approximately 325 acres, and is dedicated to producing only red wine from the Syrah grape. The Mediterranean climate and decomposed granite soils contribute to the richness and character of these wines. Terres Brûlées means "burnt earth," which refers to the long hot days balanced by the cool nights. Grapes for this 100% Syrah are hand-harvested from 30+ -year-old vines.  The wine is aged 21 months in oak barrels (10% new, 90% one-to-five-year-old barrels).
Nose
: Dark cherry, dark berries, plum, and baking spice.
Palate
: Rich with blackberry, plum, and black cherry, reminiscent of exotic jam.
Notes of vanilla, cocoa, spice, and a trace of minerality linger on a long finish.  An exceptional wine!
Alcohol
: 14.5%
SRP
: $63.99
Pairings
:  Roasted white meat, game, lamb, seared tuna, and hearty stews.
At the age of seven, I tasted lamb for the first time. And after that, I insisted that my mother make lamb chops for me at least once a week.  Seven years later, our family was invited to a traditional Greek Easter meal where I feasted on leg of lamb for the first time.  I was hooked forever!
Roasted Leg Of Lamb With Vegetables (serves 8 to 10)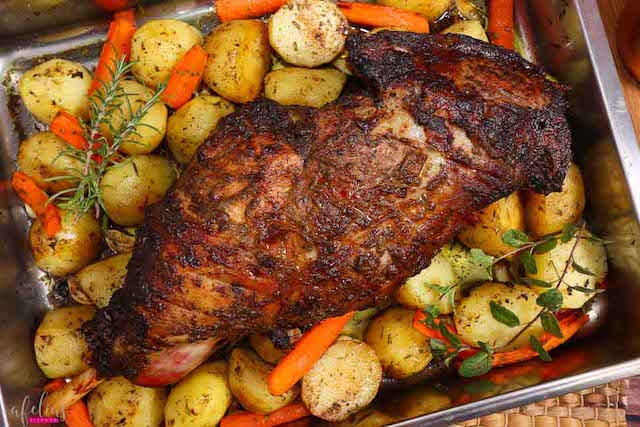 The beauty of this recipe is that you can add any vegetables you like to the pan.  My favorites are small potatoes, baby carrots, and onions.
Ingredients:
One 5 to 6-pound trimmed bone-in leg of lamb
4 to 5 garlic cloves minced
One tablespoon of olive oil
Chopped fresh parsley, thyme, & rosemary (a tablespoon of each)
One tablespoon of Dijon mustard
Kosher salt and pepper to taste.
Cut up veggies such as new potatoes, carrots, zucchini, and onions.
Directions:
Line a large roasting pan with aluminum foil and preheat the oven to 350℉.
​Pat lamb dry, and using a sharp knife, score the top side of the lamb, making shallow cuts all over.
Combine the rest of the ingredients in a small bowl.
Place lamb fat side up on a rack in the prepared roasting pan. Spread the garlic mixture evenly over the lamb, making sure to rub it into the scored cuts. (I like to use my hands to rub the mixture into the lamb.) Add a small amount of dry white wine to the bottom of the pan, and then add cut-up vegetables of your choice.
Place pan in preheated oven and roast until it reaches an internal temperature of 135℉ or until desired doneness. Occasionally baste the vegetables and add more liquid to the pan if necessary. Let rest for 15 to 20 minutes before slicing.
Note: Consult a chart for roasting time per pound to achieve doneness as to rare, medium-rare, etc.
Passover
Having sat through many family seders growing up, I endured the wine that was always served. It was a sickeningly sweet wine that insulted my palate even in my early youth. There had to be a better kosher wine! And over time, wine producers began making quality kosher wine.
Alavida Malbec Organic and Kosher 2021
This 100% Argentine reserve-level Malbec was released in 2021 from Origins Organic Imports, owned by Anne Bousquet and her husband, Labid al Ameri.  who also own Domaine Bousquet. They have been producing  certified organic wines since 1997. This wine is USDA-certified organic and kosher, a first from Argentina. "Alavida" is a riff on "to life" in Spanish – itself a riff on the traditional Hebrew toast "L'chaim!".  Grapes for this wine are sourced from vineyards in the Andean foothills at 4000+ feet. 90% of the wine is aged in used oak and 10% in new oak.
Nose
: Dark cherry, dark berries, baking spice, earthy mushrooms, and floral.
Palate:
 Aromas segue onto the palate with vibrant fruit, plum, smooth tannins, and a hint of fennel.
Alcohol
: 14.5%
SRP
: $19
Pairings:
 Charcuterie board, grilled or roasted meat, fowl, pasta, or veggie casseroles.
Savory Passover Noodle Kugel (Serves 6 to 8) courtesy of 1,000 Jewish Recipes by Faye Levy ​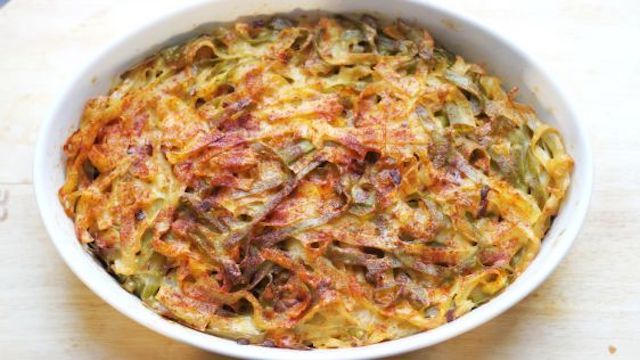 This is a delicious kugel, unlike the sweet kugels you might be accustomed to.

Ingredients
:
8 oz. Passover noodles
4 to 5 tablespoons vegetable oil
2 large onions, chopped
Salt and freshly ground pepper to taste
1 teaspoon paprika, plus a little more for sprinkling
2 large eggs, beaten
Directions:
Preheat the oven to 350℉.  Cook noodles in a large pot of boiling salted water for about 3 minutes until almost tender.  Drain, rinse with cold water, and then drain again.  Transfer to a large bowl.
Heat 3 to 4 tablespoons of oil in a large skillet over medium-low heat.  Add onions and sauté for 15 minutes or until very tender and light brown.  Add salt, pepper, and one teaspoon paprika, and sauté for about 5 minutes or until well browned.  Cool slightly.
Stir onion mixture into noodles.  Adjust seasoning; the mixture should be seasoned generously.  Add eggs and mix well.  Oil a 2-quart baking dish and add noodle mixture. Sprinkle with the remaining tablespoon of oil, then dust with paprika. Bake uncovered for one hour or until set.  Serve from the baking dish.
Note: For a heartier kugel, add sautéed mushrooms and broccoli.
Just Because!
Saget La Perrière Blanc Fumé De Pouilly 2018
Saget La Perrière is a family-run company in the Loire Valley, France. With 890 acres of vines in the finest appellations and six estates, it carries on the tradition of nine generations dedicated to producing the best wines. More commonly known as "Pouilly Fumé," the "Blanc Fumé de Pouilly" appellation is the original name of this 100% Sauvignon Blanc wine. Its classification is one of the oldest in France and goes back to 1937. The term "Blanc Fumé" (smoky white) refers to the thin smoke-colored layer covering the grapes at the time of harvest and the unique aromas of gunflint famous in the wines of Pouilly sur Loire. This wine is aged on fine lees for six months, then bottled and aged for six to eight months in the cellar.
​Nose:
 Floral, citrus, minerality, and a hint of herbal.
Palate
: Floral notes continue with ripe fruit, grapefruit, flint, minerality, and lemon zest on the finish.  It is fresh and lively!
Alcohol:
 13%
SRP
: $34.99
Pairings
: Enjoy as an aperitif or serve with seafood, grilled chicken, goat cheese, or light appetizers.
Scallops with Cannellini Bean Purée (serves two)  Double or triple the recipe  to make more servings.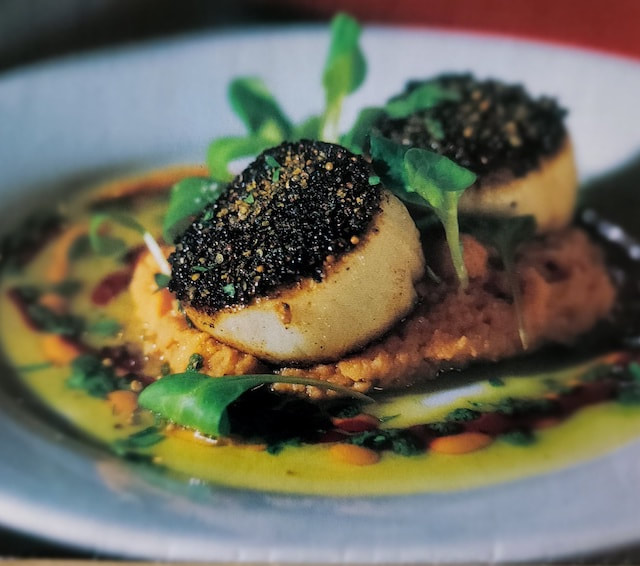 This recipe is done in three stages but is worth the time and effort.
1) Bean Purée
Ingredients:
1/2 cup canned cannellini beans, rinsed and well-drained.
1 teaspoon unsalted butter
Salt and freshly ground pepper to taste.
Directions:
Place drained beans and butter into a food processor fitted with a metal blade and process until smooth.  Season with salt and pepper to taste, and process again for 30 seconds.
2) Coulis
Ingredients:
1 red bell pepper, seeded and diced
1 tablespoon olive oil
1 clove garlic, finely chopped (about 1/2 teaspoon)
Salt and freshly ground pepper to taste
Directions:
Combine diced pepper, olive oil, garlic, and a pinch of salt and pepper in a food processor.  Blend until liquefied.
3) Scallops
Ingredients:
2 tablespoons coriander
2 tablespoons mustard seed
2 tablespoons black peppercorns
2 tablespoons pink peppercorns
2 tablespoons olive oil
4 dry sea scallops
1/2 cup of baby greens
Directions:
Preheat the oven to 400℉
Combine all spices in a spice or coffee grinder and grind to a powder.  Pour into a shallow bowl.
Heat olive oil in a nonstick ovenproof skillet over high heat until it sizzles.  Dip both sides of the scallops in the spice blend and place them into the skillet in a single layer.  Sear for about 3 minutes per side or until golden brown.  Transfer the skillet to the oven and heat for 5 minutes.
Divide and scoop the white bean puree into the center of each dish, and arrange two scallops on top of each mound. Drizzle with red pepper coulis and garnish each plate with greens.
Of course, one can enjoy these wines and recipes all year round!
Until next time…
Cheers and bon appétit!
Penina